I have been a proud owner of Belgian Shepherds since 1992. I started with Tervuren, and in 2004, bred my first Groenendael.
I have not shown extensively, due mostly to my job situation. It is difficult to get away from a working kennel!
My dogs are house dogs and companions first, but they do love to get out and show their stuff in the show ring!
I only breed occasionally, and it is always with the idea of breeding a 'better' dog. I only breed my girls once(or maybe twice) in their lifetime. Usually, I do not breed until the dogs are at near to five years of age or older. That is so that I have a VERY good idea that there is no seizuring, or other genetic health issues. I also then truly know the dogs and their dispositions. And, I will only breed to a dog I really like, usually for specific reasons. I will not breed to a dog just because he is "the dog of the day" or "he's done so much winning". I try to see the offspring of the stud dog as well as his ancestors, before I make my decision. I am always looking ahead and usually have an idea of where I want to go with future breedings.
This is my lifelong dream, and I take it seriously. My dogs are 'family' and I only want what is the best for them. I have bred some lovely litters and have placed many in loving pet, show and working homes. Many people are repeat buyers.
My first homebred Champions are: Ch. Shadanatams Astral Adventure(Cosmo) owned by Eve, and Ch. Shadanatams Aahnald the Andsome(Arnie), still living with me. They are littermates born in 1996.
My dogs often help me in teaching my obedience classes. They love to show how smart they are! And sometimes, they like to embarass me, by forgetting all that they know!!!
These dogs are beautiful, intelligent, energetic, and some are down right busy! These dogs are NOT for everyone... With their busy, inquisitive nature, they can become a handful if they don't have an assertive, yet calm owner. Belgians do require training and socialization from an early age. They require exercise(they almost require a full time job!!!) A Belgian wants to be with his people. The can get quite depressed it left alone too much, they will also be bored. A BORED BELGIAN IS NOT A HAPPY CAMPER!!!! If they are bored or lacking exercise they will make up their own jobs.... They will get into trouble... They will not be happy...
Please, before you adopt one of these guys, do your homework... Talk to breeders and owners. Read as much as you can. Be honest when you ask yourself if this dog will fit into your life style.
If you decide this IS the dog for you, make sure your breeder offers a written contract that gaurantees for health and temperment. Your breeder will also usually offer to take the dog back, for any reason at any time in the dogs life, if you ever have to make that decision. I have taken back a few over the years and usually rehomed them, but a few have stayed FOREVER! Your breeder can be your best resourse for training and info on your Belgian, as well as help you with any "quirks" you may come across.
We LOVE to get updates and pictures of the dogs! Remember, they were our babies first!!!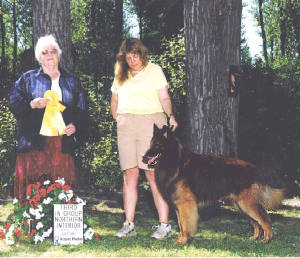 Ch. Shadanatams Aahnald the Andsome
"Arnie"
1996-2008